https://space-music.co/lhistoire-de-space-music-origines-fondateurs-et-mission/
https://space-music.co/en/the-history-of-space-music-origins-founders-and-mission/
https://space-music.co/es/la-historia-de-space-music-origenes-fundadores-y-mision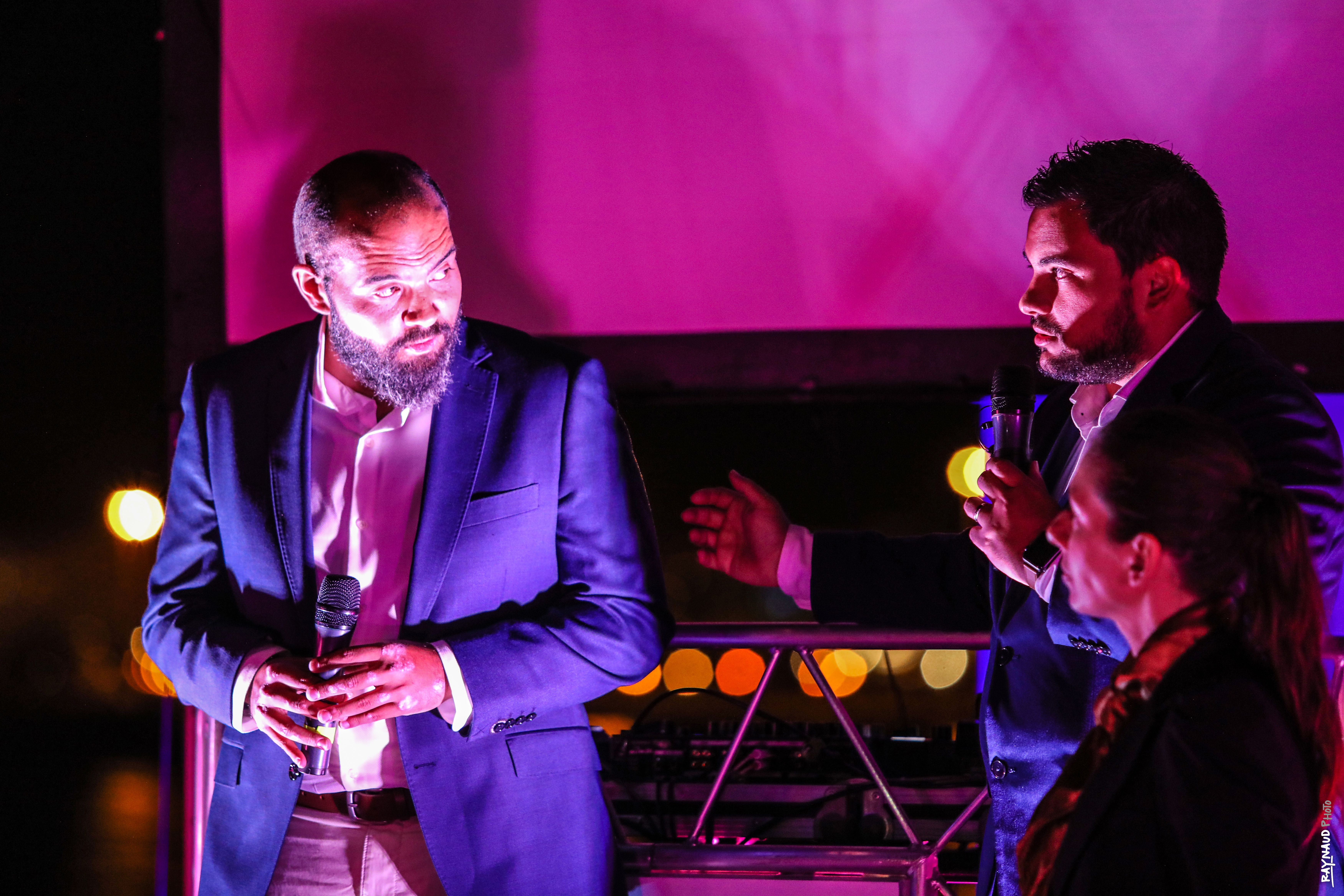 Space Music: the exciting story of a birth, a vision and a mission
In this article, dive into the story of Space Music, a revolutionary platform for artists and music industry professionals. Discover the origins of this web and mobile application, the motivations of its founders and the values that drive their mission. Let yourself be carried away by this inspiring story that gave birth to a unique platform, ready to disrupt the music world.
The beginnings of Space Music: a meeting and an idea
It all started in April 2017, when Alexandre, a young passionate DJ, met Yanis, a talented drummer, at a music event. These two artists share a common vision and decide to mix drums and mix, creating a new musical experience. This collaboration propels them on the road for a memorable summer tour, where they play more than 100 dates in 4 months. It was during this adventure that Alexandre came up with an innovative idea: to create a platform to facilitate the management of background music for establishments.
Back from tour, Alexandre met Ambroise, a talented web developer with a passion for music. Together, they create POD MUSIC, a platform for bars and restaurants to manage their background music. The success is quickly there: the establishments welcome with enthusiasm this innovation which enables them to concentrate on their core business, while proposing a musical experience of quality to their customers.
The evolution of POD MUSIC and the birth of Space Music
With this success, Alexandre and Ambroise decide to create the company POD MUSIC in January 2018. Quickly, the team grows and integrates talents from various backgrounds. Together, they work hard to improve and enrich their platform, while developing a complementary event business to finance their project.
In 2019, the first festival organized by POD MUSIC in partnership with the Auchan group and Ceetrus in Avignon is a real success on paper. This festival, placed under the sign of the cosmos, gives birth to the name SPACE MUSIC. However, the COVID-19 pandemic disrupted the team's plans and forced the cancellation of the festival scheduled for May 2020. Despite this disappointment, the founders are determined to bounce back.
It is at this moment that a significant event in the history of POD MUSIC occurs. While the founders of Space Music were going through a difficult time due to COVID-19 and the cancellation of their festival, an unexpected event added to their worries. Apple sent a letter to the founders, demanding $100,000 for the use of the word "POD". Our founders, not taking this letter seriously, decide to throw it in the trash. However, Apple did not give up and sent a new letter, this time written in English and French, to make it clear that they were not joking. Alexandre and Ambroise then understood that they had to change their name to avoid a costly and unfounded lawsuit. Thus, POD MUSIC becomes WINAMUSIC.
In spite of the enthusiasm and the energy that Alexandre and Amboise have, the cancellation of the festival, planned for May 20, 2020, has heavy consequences. A lot of investments had been made for this event, and the company could not count on a return on investment. In addition, the insurance did not cover the losses related to the cancellation. With insufficient cash flow to continue and a team of 30 employees to manage, our founders were forced to make a difficult and painful decision: to liquidate their company WINAMUSIC at the first wave of COVID.
A new impulse for Space Music
After the liquidation of WINAMUSIC, Alexandre and Ambroise are determined to pursue their dream and find solutions for artists and professionals in the music industry. They thought about the place of technology in this sector and imagined a business platform in the form of a dedicated social network. This is how Space Music was born in February 2021, with the support of two loyal employees, Thomas and Fawzi, who will become partners thanks to their commitment.
Space Music raises two funds, one in September 2021 and the other in September 2022, for a total of 200 000 euros. These funds allow the team to work on the research and development of their unique platform. In December 2022, the beta version of the web application is launched, concretizing the founders' ambition to create a professional and social space dedicated to the actors of the music industry.
Space Music's mission: to revolutionize the music industry
Space Music's goal is simple: to provide artists and industry professionals with a single place to promote, sell and distribute their work, create professional relationships and build a strong and engaged community. The application offers a multitude of digital tools to make life easier for artists, allowing them to share links, create their own web page, publish media and even perform live.
With Space Share, users can upload their content to social networks or other streaming platforms with a single click, saving valuable time. Space Music is more than a platform: it's a revolution in the music industry, a space where artists and professionals can connect, grow and succeed together.
Space Music's ambition is clear: to become the LinkedIn of the music industry by offering a unique platform for artists and industry professionals. This platform allows to promote, sell, distribute, create professional relationships and build a strong and engaged community, all in one place.
If you would like to join Space Music and be a part of this exciting adventure, please feel free to register for the beta version currently available at www.app.space-music.co. Also, if you would like to become a Titan and have an active role in the decisions made within Space Music, please visit www.space-music.co to learn more and get involved.
Join us today and discover how Space Music is revolutionizing the music industry!
Find SPACE MUSIC on social networks